LIFE IN THE QUEEN CITY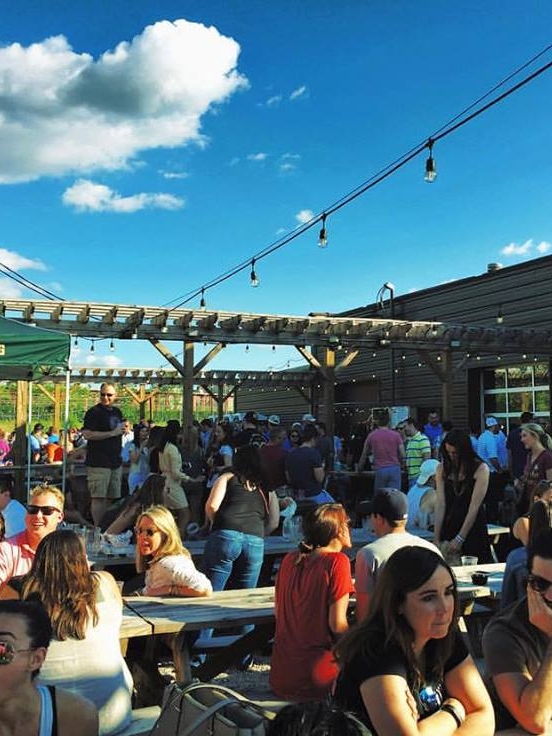 Hi everyone!
Here it is…my first official post on my new website. This blog is going to be centered around lifestyle topics, which will include posts on my outfits, favorite recipes, beauty tips and tricks, travel stories, and fitness routines. Now a little about me…
I moved from Los Angeles back to North Carolina in March. I am originally from High Point, NC but after 7 years of living in Richmond, VA, then Los Angeles, I am now living life in Charlotte, a city I never really pictured myself living in. It has only been a month and a half, but it is safe to say I made the right decision in choosing the queen city. The past month and a half has been a whirlwind, packed full of weekend travel, family time, and exploring my new stomping grounds. When choosing a new city, my first priority was being close to my family, but my second priority was assuring that I was surrounded by awesome restaurants, bars, workout studios, and places for me to take my pup, Daisy. So far I have been impressed with everything Charlotte has to offer. Here's a snapshot of my first month and a half…
Being a foodie and having lived in Los Angeles, land of the green juice and almond diet for almost 3 years, I have been overwhelmed by the delicious (Southern) food here in Charlotte. I have had some impressive meals, mostly involving pimento cheese, biscuits, bacon, BBQ, fried chicken, and of course desserts. I have frequented Midwood Smokehouse too many times for my own good, but I have to say I love it. Customshop for small plates, Bonterra Dining & Wine Room for an upscale dinner, and Deejai's for thai food are among my other favorites. I can't get enough of Elizabeth Creamery (homemade ice cream and fresh baked waffle cones, what's not to love?) and have been twice a week for the past month (bikini body, be damned). As for places to get a drink, I'm a huge fan of Sycamore Brewery on sunny Saturdays, Craft for a weeknight drink, and Foxcroft Wine Co. for a bottle of wine and charcuterie board. Suggestions for brunch, a nice dinner, and drinks, are highly desired. :)
I am a true lover of farmer's markets, filled with fresh flowers, herbs, and vegetables. The first free weekend I had in Charlotte, I discovered the Kings Drive Farmer's Market, open from 7 am until 2 pm on Saturdays and located at 938 S. Kings Drive in Myers Park. They are also open on Tuesdays and Fridays. In search of succulents and hanging baskets to fill my TWO porches with, I was not disappointed by their selection. I have also stocked up on their amazing vegetables, herbs, and fruits, fresh from farmers in SC and NC, multiple times.
While I am a huge fan of the outdoors, as well as a huge fan of exercise, I rarely run outside. The weather here has been perfect the past two weekends, so I have gotten the chance to enjoy Little Sugar Creek Greenway. The start of the Urban section, at Elizabeth Park, has an area filled with wooden swings, much to my delight (yes, I am a child at heart). This past Saturday, Tristan and I ran from our apartment in Fourth Ward, through the Urban section of the Greenway, to the Kings Drive Farmer's Market. We loaded up on fresh produce and along our trek back home we checked out The Map Shop. Stay tuned for my next post about The Map Shop, and my newest project.
That's just a few of my favorite things I've discovered and I'm looking forward to exploring more. Comments, questions, and suggestions are welcomed and greatly appreciated. Subscribe to the blog, check out my Instagram, Pinterest, and Facebook to follow me and stay up to date on my whereabouts. :)